Nice to meet you,

⎯ Well, hi there and thanks for stopping by, I'd like to tell you a bit more about myself.
I work and live as a professional artist in Stekene, Belgium.
Besides animals, there's always humor in my work. Mainly because I can't live without humor... (and animals)

Do you have any questions about the paintings or would you just to know me a little better, jump to my contact page.
Check my paintings in the gallery. They are fun and hilarious. You have been warned!

Okay, now scroll down for more facts.









A little origin story about a big dream.

⎯ I grew up in the rural Beveren-Waas. Ever since I was young, I was surrounded with brushes and paint from my father. These photos from the 70s below are witness to this.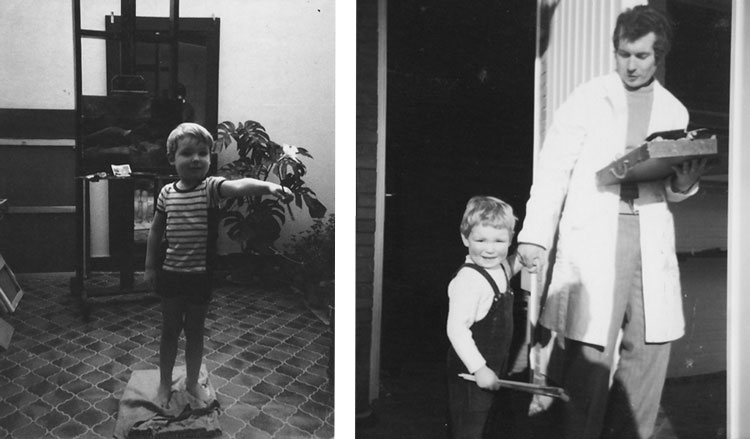 Me and my father at his art studio.


It was clear that I also had the artistic microbe just like my father Hilaire Bals. He was also a professional painter for years and inspired me to go to the drawing academy in Beveren-Waas. At the same time, I followed graphic design in Antwerp.

After my military service with the Air Force I ended up working at the Stedelijk Museum in Sint-Niklaas. There, I mainly worked on the temporary exhibitions where I often went on prospecting for artists and museums.

All very interesting, but in the meantime I sold my paintings that I made during my free hours and that went very well.

At one point it dawned on me ... do I want a safe job and a taste of the artistry? Or do I opt for the adventurous and will I become a full-time artist?

It has become the last and I have not regretted it!








Art Gallery

Galerie De Beeldenstorm
Bosschenhoofd - The Netherlands
Saatchi Art
Los Angeles - USA








Exhibitions

You could have seen the paintings here:


Städtischen Museum Schloss Rheydt, Kulturgeschichtliches Museum der Stadt Mönchengladbach (D)
Stedelijk Museum, Sint-Niklaas (B)
Centre Rops, Brussel (B)
Cortewalle Castle, Beveren (B)
Kunst und Antiquitätentage Münster, Münsterland (D)
Art gallery Argo, Knokke Het Zoute (B)
Galerie 713, Knokke Het Zoute (B)
Art Nocturne Knokke, Kunst- en antiekbeurs Knokke Het Zoute (B)
Galerie Evasion, Waremme (B)
Galerie Paulette Bos, Den Haag (NL)
Headquarters Ethias insurance, Luik (B)
Galerie Van Veen en Vendelbosch, Dordrecht (NL)
Atelier Hilaire Bals, De Klinge (B)
Dacca, Temse (B)
Galerie Esprit, Clinge (NL)
Galerie De Beeldenstorm (NL)
Art Fair Den Bosch (NL)
Kunst op de brink, Laren (NL)
Art Laren, Kunst op de brink, Laren (NL)
Kunst- en antiekbeurs Hasselt (B)
Classic, Kortrijk (B)
Art Breda (NL)
Expo Art fair, Tielt (B)
Galerie Atmosfera, Kortrijk (B)
Galerie Léon Keuninckx, Grand-Rechain (B)
Interview


VIDEO - Interview

At Galerie De Beeldenstorm an interview was recorded on the occasion of the solo exhibition.