Upcoming Events
You can see my paintings at the these Art Events


PhanART Viechtach (DE) - Dreamscapes

Groupexhibition with
MICHAEL PARKES, MENUNANA, JOSE PARRA, REINHARD SCHMID, SIEGRFRIED ZADEMACK, ELI TIUNINE, GERD BANNUSCHER, MICHA LOBI, MARCEL WITTE, LUKÁŠ KÁNDL, BRUNO DI MAIO, SLAVKO KRUNIC, CHRISTIAN SCHMIDT, STANI BOROWSKI UŁADZIMIR BLUDNIK, MAREK ZYGA, PROF. PRZEMYSŁAW LASAK, WIM BALS BARBARA VAN DEN BERG, PETER HIEMSTRA ROLAND GRABKOWSKI, JAN DUBROWIN ALBERTO VARELA LAUSEN, JONAS LERICHE JOANNA SIERKO FILIPOWSKA, HANDIEDAN FRANK E HOLLYWOOD, ROBERT BISSEL PHILIPPE TIMMERMANS, MARCEL BAKKER TOTONHO, OLE AHLBERG, DAAN NOPPEN, DEJAN ULARZIC, HERMAN SMORENBURG, MART KRIJGER, SHIORI MATSUMOTO, JAQUELINE NIEUWENDIJK, PETER ZWAAN, RONALD COMPANOCA, PATRCK BERGSMA, BRITA SEIFERT, PETER VAN OOSTZANEN, FLOR PADILLA, SANDRA WESTGEEST

June 14 - September 29 - 2019
Altes Rathaus Viechtach
Stadtplatz 1
94234 - VIECHTACH - Germany




---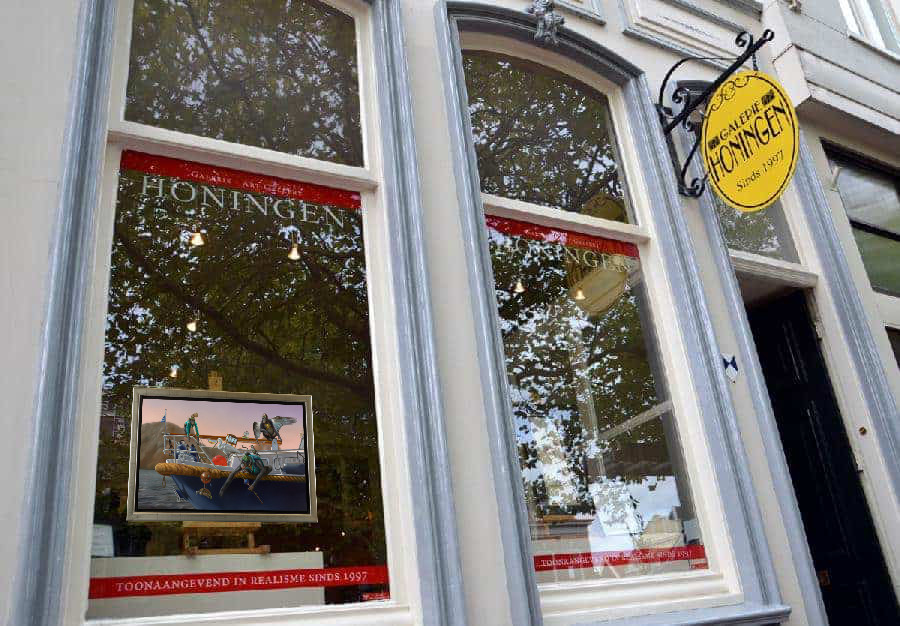 Gallery representation



Galerie Honingen
Lange Tiendeweg 40
2801 KJ Gouda - The Netherlands
www.honingen.com



Galerie De Beeldenstorm
Roosendaalsebaan 4
4744 SM Bosschenhoofd - The Netherlands
www.nvdbs.nl








News

---



👋 Live Chat on wimbals.com from now on



May 20, 2019

⎯ New function

From now on you can 'chat' directly with me via the contact page if you want information.
At the bottom right of the contact page you see the chat button, as soon as you click on it you can start typing your question. You will receive an instant answer from me.
I find it particularly useful when I visit websites of companies that have this function. You know that your question will be answered immediately.

If I cannot be reached online, the function is not visible/available.



---



Azalea



April 14, 2019

⎯ Full steam ahead with this painting
Azalea
35 x 35 cm
Oil on panel

Update: This painting has already been sold.

#art #flowers #frog #fish #galeriehoningen #artistsoninstagram #hyperrealism #cheese #hamstergram #azalea #gent #kunst #schilderij #kunstenaar #waterspuit #nature #wimbals #humor #humour #happy #happiness



---



The Eagle and the Seal



April 3, 2019

⎯ Falconry
I painted this painting "The Eagle and the Seal" a while ago.
The approach to the subject and the composition was a little tougher than the style I normally use.
For example, there is the vast mystical landscape and the eagle that claims almost the entire width of the painting and the seal in a traditional costume.
You can observe deer antlers, acorns, lights and a magic ball in the staff.

This painting is currently in my studio in Belgium.
"The Eagle and the Seal"
50 x 80 cm
Oil paint on panel

#falconry #art #painting #abudhabi #hunting #arabia #exclusive #artwork #festival #landscape #artforsale #wimbals #seal #surrealism #fineart #realism



---



Work in progress



March 29, 2019

⎯ Detail strongman
Work in progress... This strongman is part of a circus family.💪🐷

Update: This painting has already been sold.

#painting #strongman #piglet #art #wimbals #trompeloeil #art #miniature #happy #surrealism #circus 2019



---



New Art Gallery



March 25, 2019

⎯ Art Gallery Honingen
My paintings will soon be on display in Gouda (NL) at Galerie Honingen.
This leading gallery in contemporary figurative art has a particularly beautiful collection of artists and I am delighted with this new collaboration.

A painting that will soon be available in the gallery:
'Superhero'
23 x 23 cm | Oil on panel
2019



---



Explorers



March 13, 2019

⎯ Just varnished!
"Explorers" | 30 x 60 cm, oil on panel.

This cheerful company goes on an adventure as explorers to new places.
Presumably it is an Eastern destination based on the Chinese lanterns. Or maybe they brought these lanterns from previous expeditions?
Here the story lies in the hands of the spectator, or her, fantasy...

In addition to the dynamic and humorous story, I also placed an extra layer in this painting.

The chimpanzee records the impressions during their expeditions with an imaginary device.
This data then ends up in a scientific book that the monkey has with him.
But as you can see, pages fly out of the book. This symbolizes the everlasting quest of humanity to approach everything scientifically.

Also the fact of the more you investigate, the more is added to investigate.

Update: This painting has already been sold.



---



New painting with a cat coming up




March 9, 2019

⎯ I am currently working on a painting with a cat.
The size is 23 x 23 cm, this is the size of only the painting, so with the frame included it will be 31 x 31 cm.

Would you like a notification when a painting is available?
Then be sure to sign up via this form



---



Facebook



March 4, 2019

⎯ From now on, all messages that I put on Facebook and Instagram will end up here It seems better for you as a visitor that all news is grouped on www.wimbals.com.

You can still follow my Facebook page via this link.






Paintings from Singapore to Dubai.
⎯ You're in good company, the paintings are spread around the world collected by private owners as well as companies. Would you like to expand your art collection or maybe it's your first art purchase?

If you buy a painting of me then you know that I only make one unique copy of each painting and that there are no reproductions on the market.
That makes the artwork even more exclusive.

You can always contact me by e-mail or phone about the availability and price of one or more paintings, without any obligation.









Art transport


⎯ If you want to buy a work of art you will of course receive it in perfect condition.
The painting will be professionally packed and provided with the necessary documents and can be received anywhere in the world.

With the shipment of your painting an all-risk insurance is standard, so your new painting will arrive with no worries.

Within Belgium and the Netherlands I, or the gallery, take care of the transport of the paintings.
Worldwide shipping is done by a professional partner in art transport.