Let's get BIG!

14 July 2023

I rarely paint large paintings but every now and then I feel the urge to make a large work.

It is often a long process before such a painting is ready, but that is precisely why you as an artist have an enormous bond with it.

It is therefore often not easy to say goodbye to it when it is finished.
Knowing that the painting will one day find a beautiful home with art lovers who can enjoy it every day gives me great satisfaction.

To be continued….








---
Convoi Exceptionnel

2 August 2023

In this painting 'Convoi exceptionnel' in which a black-headed gull transports a nest of young birds, a hamster can also be seen in a flying Fabergé egg.

The process from drawing to fully finished in oil paint of this fragment can be seen in full on my Youtube channel or watch the video below

'Convoi Exceptionnel'
25 x 25 cm
Oil on Panel
To be framed in a matte black tray frame
* Update: This painting is sold
---
Take Off

4 May 2023

The last details and then this kingfisher is ready.
Particularly fun to 'freeze' this moment of action on this painting.

Discover the elements of a bicycle such as an old bicycle saddle, bicycle bell and a bicycle light that make this kingfisher a kind of hybrid figure between bird and machine.

'Take off'
25 x 25 cm
Oil on Panel
To be framed in a matte black tray frame

* Update: This painting is sold








---
Meanwhile in the studio

22 December 2022

At the moment I am in the good company of a Maine Coon cat.

This cat is at the center of the new painting 'Enchanted'.
The idea was to make a portrait immersed in Rembrandt atmosphere.

This dramatic lighting strongly emphasizes the three-dimensional shapes of the subject, the Maine Coon in this case.







Enchanted

41 x 40 cm
48 x 47 cm framed
Oil on panel



ask for information








---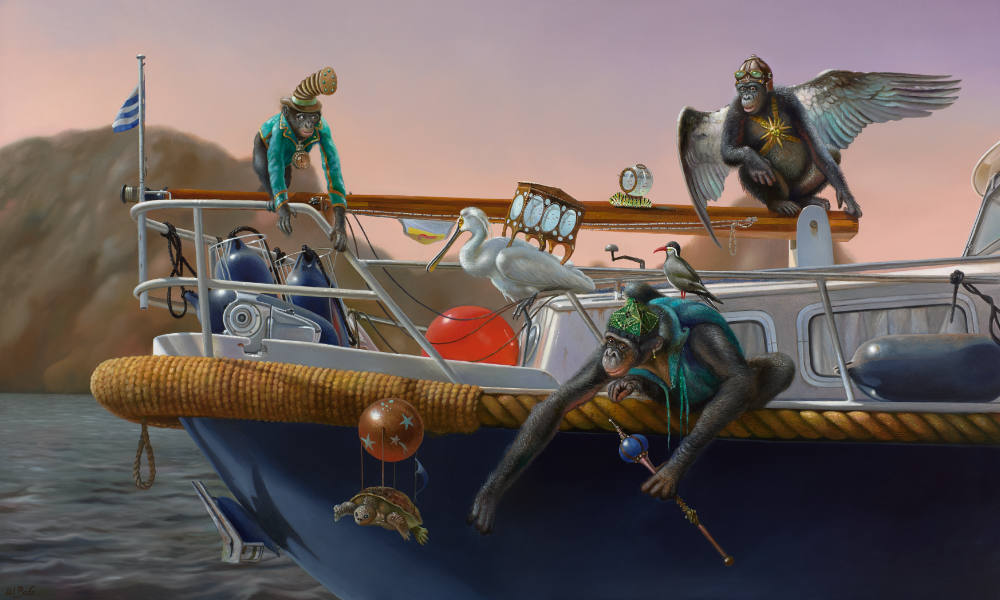 Icarus

18 August 2022

All aboard!

Very soon this painting will sail to Galerie Honingen in Gouda, where it will participate in the 25th anniversary exhibition.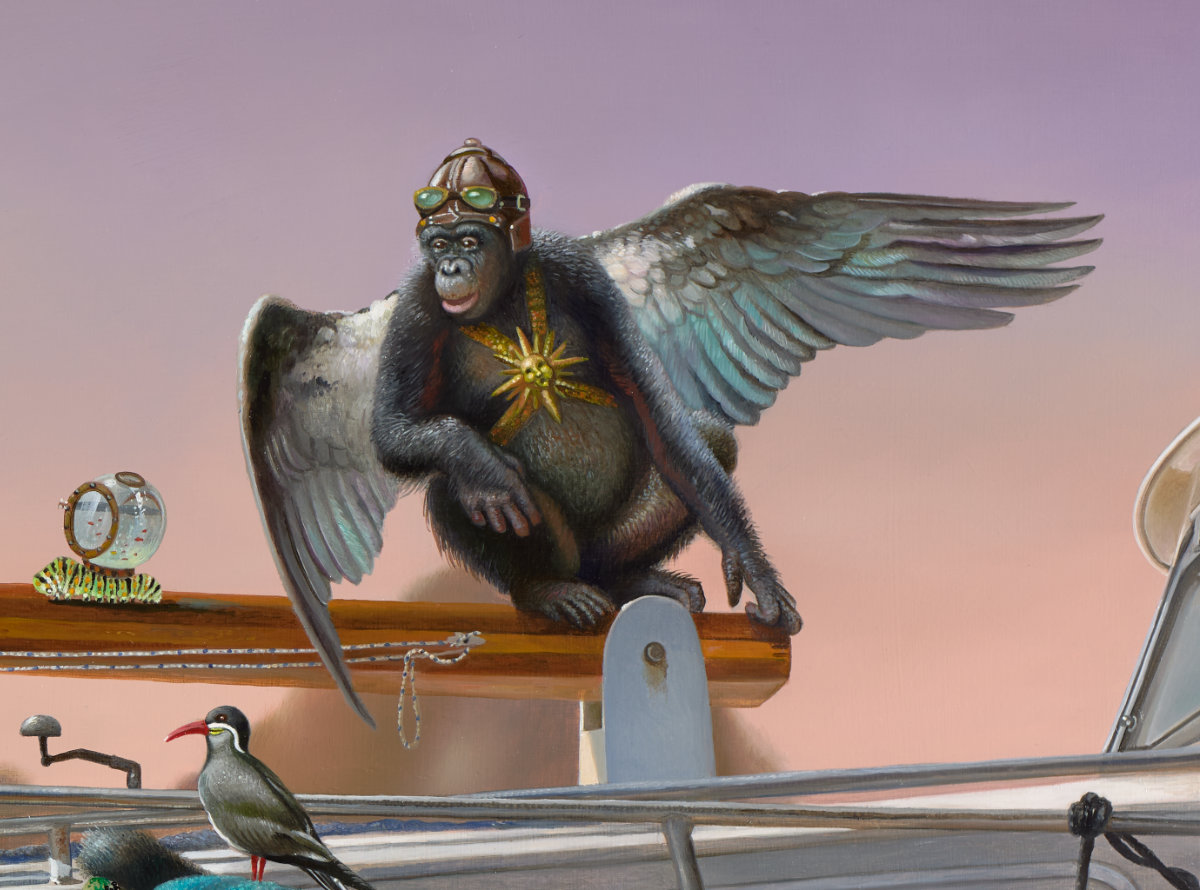 This painting shows my vision of the mythological story of 'Icarus'.
As Icarus and Daedalus are held captive in Crete by King Minos, Daedalus devises a way to escape: he builds wings from a wooden framework, studded with feathers in a bow secured with wax.
Because the wax can melt, Daedalus warns Icarus not to fly too high and close to the sun, but not too low either, because the seawater would make the wings too heavy.

In his enthusiasm, however, Icarus becomes reckless; he flies too high to melt the wax and crashes into the Aegean Sea.


Icarus

36 x 60 cm
44 x 68 cm framed
Oil on panel



ask for information









Want to own a painting?


⎯ Within Belgium and the Netherlands, I usually take care of the transport of the paintings myself, or the gallery.
Worldwide shipping is done by a professional partner in art transport.


All-risk insurance is standard with the (possible) shipment of your painting, so that your new painting will arrive without any worries.


Prefer to pick up the painting yourself?
That is also possible, coffee is ready.








---



Paintings from Singapore to Dubai.
⎯ You're in good company, the Wim Bals paintings are spread around the world collected by private owners as well as companies. Would you like to expand your art collection or maybe it's your first art purchase?

If you buy a painting of me then you know that I only make one unique copy of each painting and that there are no reproductions on the market.
That makes the artwork even more exclusive.

You can always contact me by e-mail or phone about the availability and price of one or more paintings, without any obligation.