Masterful Miniatures

28 October 2022

Under the title 'Masterly Miniatures VIII - Great paintings in small format', the exhibition with only small paintings will take place at Galerie Honingen in Gouda.
I participate in this exhibition with this small painting (20 x 14 cm) of a yellow-billed stork.

The yellow-billed stork (Mycteria ibis), sometimes also called the wood stork or wood ibis, is a large African wading stork species in the family Ciconiidae.
It is widespread in regions south of the Sahara and also occurs in Madagascar.

This exhibition can be visited from 24 November to 18 December 2022.








---
House of the Animals

2 September 2022

For over a year I had been thinking about using the Villers-la-Ville Abbey, founded in 1146, as the main theme for a painting.
After site visits, notes and photos, I have now started working on this painting.

The intention is to get a lot of movement in this piece through the composition and the animals.
Given the imposing abbey, I opted for a larger format so that the whole scene makes impact.

In the above photo you can see that I apply the first layer of oil paint.
To be continued...






When you cross a pelican with a hummingbird, there is a good chance that you will get this result...
After painting the architecture I can start painting the animals.








Me and Cindy during the site visit










---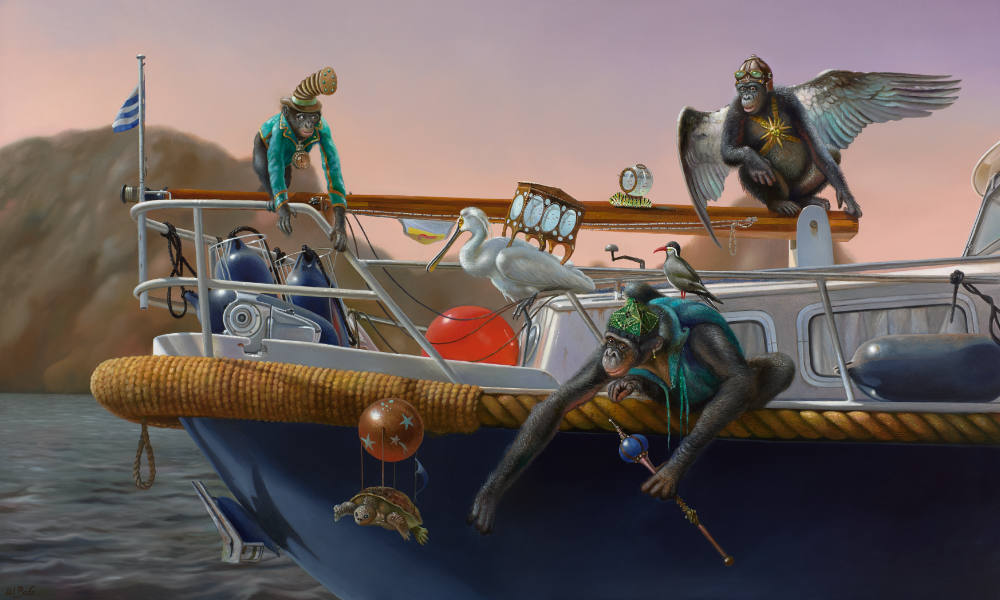 Icarus

18 August 2022

All aboard!

Very soon this painting will sail to Galerie Honingen in Gouda, where it will participate in the 25th anniversary exhibition.

Icarus
36 x 60 cm
Oil on panel








---
One to see again

10 August 2022

I made this painting 'Porcelain Boat' some years ago.
It still hangs in my studio and after all these years I still find it a fascinating work in terms of subject and color.

The frames used then were different from the frames I currently use. By the way, these frames are sold out and no longer available.

Are you interested in this painting?
Send me a message by mail, Whatsapp or call.









Want to own a painting?


⎯ Within Belgium and the Netherlands, I usually take care of the transport of the paintings myself, or the gallery.
Worldwide shipping is done by a professional partner in art transport.


All-risk insurance is standard with the (possible) shipment of your painting, so that your new painting will arrive without any worries.


Prefer to pick up the painting yourself?
That is also possible, coffee is ready.








---



Paintings from Singapore to Dubai.
⎯ You're in good company, the Wim Bals paintings are spread around the world collected by private owners as well as companies. Would you like to expand your art collection or maybe it's your first art purchase?

If you buy a painting of me then you know that I only make one unique copy of each painting and that there are no reproductions on the market.
That makes the artwork even more exclusive.

You can always contact me by e-mail or phone about the availability and price of one or more paintings, without any obligation.